OEI Online Learner Readiness is designed to assist California Community College students in developing the skills required to be successful online learners. Students, while they may be savvy smart-phone, tablet, and/or computer users, may not be prepared for the particular challenge of college level learning in the online environment. Colleges can easily include these resources in existing online courses and learning environments.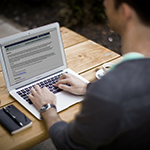 Multimedia Tutorials
A series of engaging, interactive multimedia tutorials and resources designed to address the real challenges encountered by both new and experienced online students, now available for free via Creative Commons licensing and which may be repurposed to meet the unique needs of an individual college.
Readiness Modules
Colleges statewide are encouraged to include online learner readiness solutions prior to a student's participation in an online course and at any appropriate point within an online course. Providing access for students is as easy as providing a single link to the combined resources. Links are also available for individual components of the tutorials should a college wish to segment resources based on student need.
OEI pilot colleges are now using multimedia tutorials as part of a complete Online Learner Readiness product, called Quest, that includes a diagnostic assessment, multimedia tutorials, quizzes and supplemental resources.